Campus Snapshot: There's something afoot at Elisabeth Haub School of Law at Pace University in White Plains. The suburban school is focused on improving its attractiveness to students, and has posted significant gains in its employment outcomes of late. That's understandable given the school's strong environmental law program, as well as abundant clinics, including a comprehensive and impressive immigration law effort. The school also specializes in international law, and sponsors a noted moot court in Vienna. The school provides an interesting choice for students who aren't wed to city life.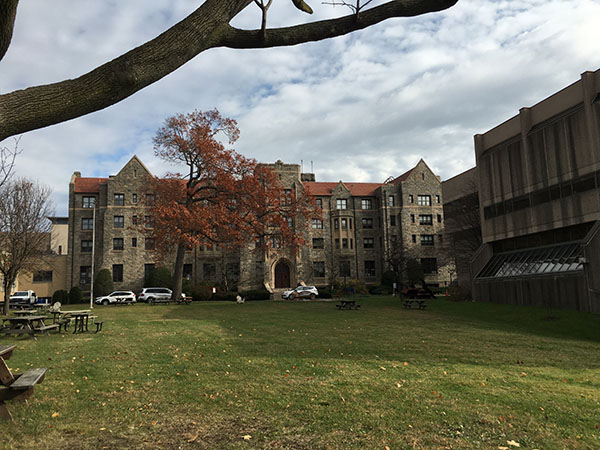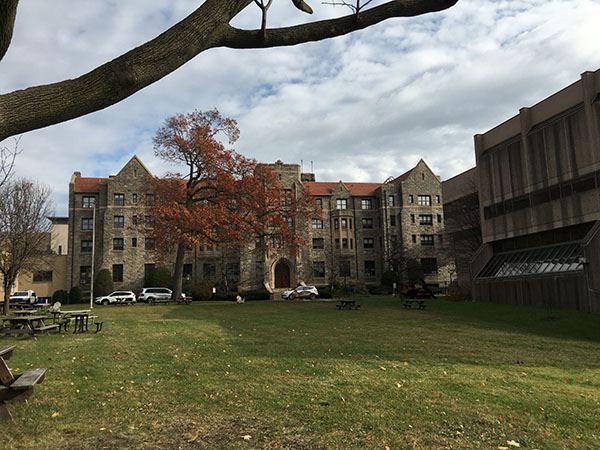 About 30 miles north of Manhattan, you arrive at an American Revolutionary War battlefield in White Plains. It's always astounding how quickly after leaving the city you can find leaves and history, traffic permitting. There, you'll find Pace Law School (now the Elisabeth Haub School of Law at Pace) in a mishmash of buildings in a residential neighborhood. It's an interesting school that clearly tries harder.
Among its standout programs is an environmental law focus, which extends to several of its clinics, including the Pace Energy & Climate Center, the Environmental Litigation Clinic and the Kheel Center on Resolution of Environmental Interest Disputes. Students can earn an LL.M. in environmental law with two concentration tracks: 1) climate change; and 2) sustainable development and land use. Students can also earn a joint degree, a J.D./M.E.M. with the Yale University School of Forestry and Environmental Studies or a J.D./M.S. with Bard College Center for Environmental Policy. The school also hosts the National Environmental Moot Court Competition. That concentration is an attraction to students, including recent graduate Patrick Carroll, '15, who chose the school for its combination of classroom and practical experience. He is currently clerking for Judge Elisabeth Wolford of the Western District of New York, and recently finished a 50-mile ultra marathon through the forests of the Mohonk Preserve.
Pace was accredited by the ABA in 1976. It's also noted as the home of the New York State Judicial Institute, the statewide education, training and research center for the judges of the state's court system.
The school is recognized for its clinical and experiential learning. Among the school's other clinics are a Women's Justice Center, the Barbara C. Salken Criminal Justice Clinics, and an Investor Rights Clinic. Of particular note is Pace's Immigration Justice Clinic, which provides opportunities for students to help clients on an impressive breadth of immigration needs, including family-based petitions; employment-based petitions; religious-based petitions; a variety of waivers; reopening of final removal orders; and crime-based removal cases for which students have traveled to various federal appellate courts on behalf of their clients, as well as written a cert petition to the U.S. Supreme Court.
On the numbers, Pace accepts 56.2 percent of applicants of which 25.8 percent attend. Tuition is the 5th most affordable among NY schools, with full-time tabs of $46,284 and part-time at $34,716. The school provides scholarships to 81 percent of students, at a median of $24K. The total student body is the fourth-smallest in NY, with 533 students, who are 54 percent female and 28 percent minority. Attrition is high for 1Ls, at 18.7 percent (average is 8.4 percent); and on the mark for 2Ls at 1.1 percent (average is 1.6 percent).
The school's bar pass rate of 70.4 percent is on the low end of NY schools. The average bar pass in NY is 78.1 percent, and 93.8 percent of Pace grads take the NY bar.
Among the strong metrics for the school are its recently rising employment rate, which is now at 90.5 percent, after placement of 133/147 grads in jobs. That's the fifth-highest employment rate among NY schools. Graduates go to work for: firms (62); business; (25); government (18); public interest (12); and clerkships (11). The firms they join are: solo (2); small (37); medium (13); and large (3). A question for prospective students is the slightly larger number of unknown employed students reported by the school compared with others. Pace reported as employed 5 students with unknown types of employers, and 9 students employed by firms with unknown size of firms.