Campus Summary: Hofstra Law School, aka the Maurice A. Dean School of Law, offers a strong legal education alternative outside Manhattan. Its alumni populate a who's who of Long Island notables in government, judiciary and law practice and include Jared Kushner's father and Donald Trump's sister, 3rd Circuit appellate judge Maryanne Trump Barry. They also include Judith Livingston of Kramer Dillof, the premier plaintiffs' lawyer and first woman admitted to the prestigious Inner Circle.  The school is expensive – its full-time tuition of $55,860 is the 6th-highest in New York. The school has the 10th-best employment metric of NY's 15 schools, placing 85.7 percent of its grads in jobs. Most go to work for law firms, although only eight secured big firm posts. The firm is strong in government, where its 40 placements rank 3rd in the state; business, with 28 (6th); and public interest, with 20 (6th).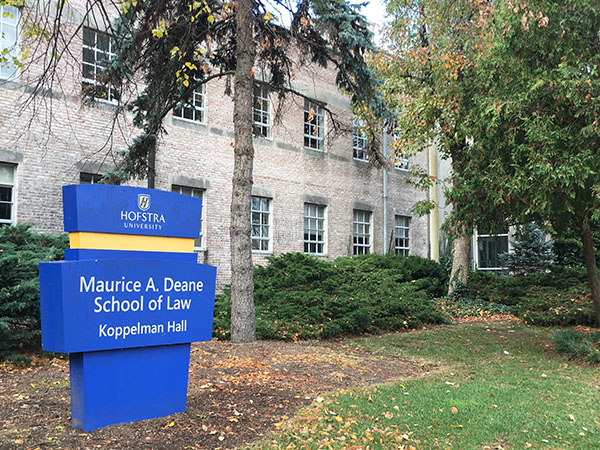 Founded in 1970, Hofstra Law School is a strong suburban alternative to the hectic pace and living expense of attending school in the City. The 30 miles down Grand Central Parkway from Brooklyn Law School are night and day, and offer a pipeline to Long Island law practice that is second to none.
The school offers 15 concentrations, including Child & Family Advocacy; Energy & the Environment; and Labor & Employment Law. It's also noted for its public interest programs. The school recently added a Deportation Defense Clinic to assist immigrants facing legal troubles.
Hofstra alumni include government leaders from New Jersey to Alabama with heavyweights throughout New York, including former New York Governor David Paterson; Edward Mangano, the Nassau County Executive; and Neil Levin, the executive director of the Port Authority of New York and New Jersey, who was killed on 9/11. Other notables include Randy Levine, president of the New York Yankees; political genius Mary Matalin (who attended); Eric Lesh, director of the Fair Courts Project at Lambda Legal; and Andrew Oringer, a partner at Dechert. Recent alum Vladimir Yelizarov, who immigrated to the U.S. from Uzbekistan and is now an associate at O'Melveny, is a great illustration of the school's impact on students.
On the numbers, the school accepts 55.1 percent of those who apply, and 22.4 percent of those attend. Its bar pass is a weak spot – third-lowest in the state – with 66.5 percent of those who take the NY bar passing (the average is 78.1 percent). Most of the school's grads, 94.7 percent, take the NY bar. The school's tuition is a hefty $55,860 ($41,830 part-time), and 69 percent of students receive scholarships; the median is $30k.
Of the school's 719 students, 54 percent are female and 27 percent are minority. The school accepts a large group of transfers, with 25 students moving to Hofstra last year. The school's attrition is high, with 15 percent 1L attrition and 4.9 percent 2L (overall averages are 8.4 percent and 1.6 percent). Of the recent class of 301 graduates, 258 got jobs, a placement rate of 85.7 percent. While that's just the 10th-highest employment rate in New York, Hofstra's 258 placements are the best total placement of any school outside Manhattan and Brooklyn.
Graduates go to work for: law firms (151); business (28); government (40); public interest (20); and clerkships (11). The firms they join are: solo (3); small (99); medium (31); and large (8).
If you're considering Hofstra and you love Long Island or want to build a practice in the burgeoning area, it's a great choice if you can handle the tuition. If you want to practice in the City, it's a good alternative, but pay special attention to building your credentials and connections 30 miles away.