Campus Snapshot: The Benjamin N. Cardozo School of Law at Yeshiva University is one of Manhattan's six law schools, and by far the youngest, with its first graduating class in 1979. Since then, it has built pathways to careers for more than 13,000 graduates who work in big firms, public interest, legal aid, financial services and government. One of its signature achievements is The Innocence Project, which has helped more than 350 wrongfully convicted men and women win release. The school is noted for its specialty in IP, in particular for the fashion, entertainment and media industries, and its strength in dispute resolution and practical training. It's very expensive, with full-time tuition of $56,796 – the 4th-most expensive in NY. Cardozo does a good job of helping students out, as 81 percent of them receive scholarships. The school is a comfortably sized 881 students and is located in Greenwich Village.
It's not every day a law student gets to help an inmate who's been wrongly imprisoned for 25 years win his freedom. But that's what happened with Rachel Pecker while she attended Cardozo Law in the heart of Manhattan. On her way to graduating in 2013, she worked at The Innocence Project, which was launched by Professors Barry Scheck and Peter Neufeld at Cardozo in 1992. She represented Michael Morton, helping win his exoneration, an experience she now uses as appellate counsel at The Legal Aid Society. Her experience exemplifies much of what's great about Cardozo – it's a young school with a passion for social justice and real-world solutions to legal problems, like its namesake, U.S. Supreme Court Justice Benjamin N. Cardozo. It also demonstrates the school's emphasis on practical training, as The Innocence Project is just one of more than 20 clinics, which also include clinics on Indie Film; Mediation; Tech Startup; Bet Tzedek Civil Litigation; and Holocaust Claims Restitution.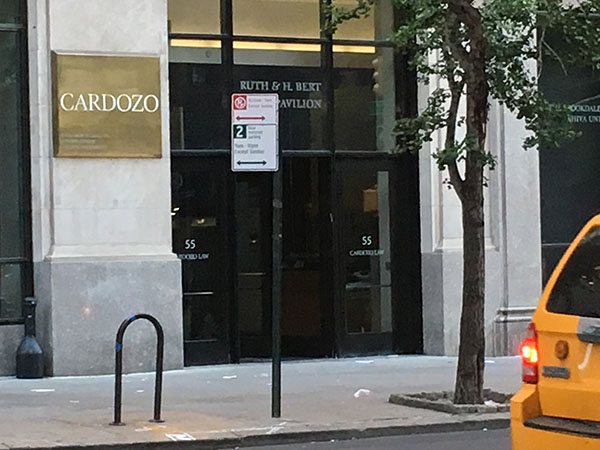 Known for its practical skills, IP and dispute resolution training, the school bustles with new ideas and approaches. That's led to initiatives like the Cardozo Data Law Initiative, launched in 2013 to focus on business, technology and the law; and the FAME Center, focused on fashion, art, media and entertainment, launched in 2014. In addition to ample clinics, the school offers opportunities to work on a student newspaper and six journals, ranging from the Cardozo Law Review to its noted Journal of Conflict Resolution.
Students who attend Cardozo principally come from the Northeast and are preparing for jobs in the region. The top feeder schools are New York University; Columbia; Barnard; University of Michigan; Brandeis; Yeshiva; and Rutgers. And for many lucky students, they get housing near the school's ideal location at 5th Avenue & 12th Street. A lot of New Yorkers would go to law school just to get an apartment at The Alabama.
As a young school, its alumni roster is less historic but certainly robust. It includes 250 former clerks; 30 judges; 175 partners at major firms (including Debevoise, which is a sweet spot for the school, and has six partners from its alums); 135 corporate counsel; 100 senior executives at financial institutions and more then 30 members of the Manhattan District Attorney's Office. Among its eclectic and wide-ranging alum are: New York Supreme Court Justice Tanya Kennedy (who is also the president-elect of the National Association of Women Judges); John LaBarre, head of Google's Patent Transactions team; restauranteur Eddie Huang; Iddo Arad, an entertainment partner at Frankfurt Kurnit, who facilitated development of the movie "Moonlight"; Alissa Makower, Vice President and senior counsel of CBS; Josh Saviano, who played Kevin's best friend Paul on "The Wonder Years," got his law degree and now runs Act3Advisors; and David Samson, president of the Miami Marlins.
On the numbers, Cardozo Law is solid. It admits 53.5 percent of those who apply, and 21.5 percent of those attend. Its tuition of $56,796 is on the high side (4th-highest in the state) for a school whose job placement is 11th in the state. Cardozo does a very good job of offsetting that expense, providing 81 percent of its students scholarships, with a big median of $30,000. And it's worth noting that 153 of its students get full tuition. The school has 881 total students, 52 percent of whom are female and 25 percent are minority. Nine students transferred in last year, and its attrition of 8.4 percent of 1L and 0.7 percent of 2Ls is roughly average.
While its employment mark of 84 percent needs work, it does well in coveted big firm jobs. Of the 304 of 362 students who got jobs last year, they went to work for: law firms (161); business (70 – the 2nd-highest mark in NY); government (35); public interest (22); clerkships (15); and academics (1). Those who joined firms work for: solo (1); small (80); medium (25); and large (56) firms. They primarily work in New York (255) and New Jersey (26). Cardozo's bar passage also is right on the money at 79.8 percent; 89.9 percent of the school's graduates take the New York bar (which has an average pass rate of 78 percent).
The New York legal education market is ultra competitive, particularly in New York City, where there are a great range of options for driven students willing to pay a lot of money to wager on themselves. Cardozo is a good choice for those who use their connections wisely and who are focused on leveraging what the school does best to help them toward interesting careers.