Campus Snapshot: There are a few schools that capture in a moment's glance what you'd think a law school should look like. Literally elevated, with steps leading up to pillars, and set aloofly away from rest of the school. Louisiana State University Paul M. Hebert Law Center is for sure in the "looks like a law school" top 10. And it plays its role well, producing Southern politicians, judges and lawyers by the bushel – not to mention James Carville, Russell Long and current governor John Bel Edwards. Its grandeur beckons, with the real choice for many students boiling down to LSU or Tulane. The students won over by LSU appreciate that it's more affordable and has a higher bar pass rate as well as the grandeur of its Baton Rouge campus.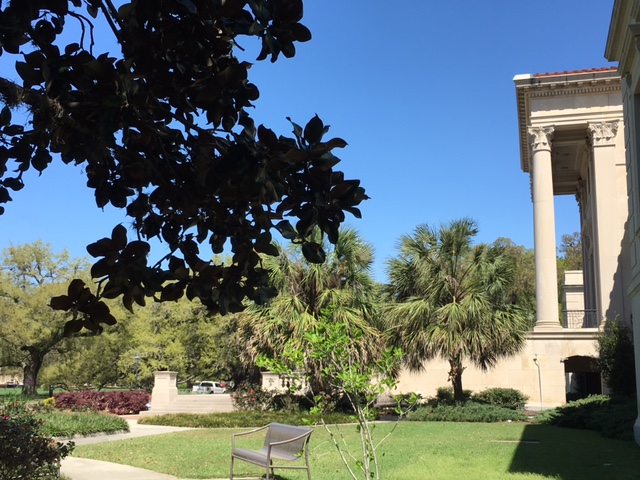 You've probably already "visited" the campus of Louisiana State University in Baton Rouge, though you may not know it. It's where Pitch Perfect (I and II) were shot, as Barden University, although sadly none of the Bellas have yet gone to law school. It's gorgeous in a decadent Southern way, and looped around the LSU lakes (yes, those across which Fat Amy paddleboards). There's also the appeal of its mascot, Mike the Tiger. But that's just the lagniappe. Let's get to the roux.
This is a very good law school that has produced a powerhouse of alumni who form the base of government, judiciary, lawyers and business in Louisiana as well as throughout the South. More than a few of its alumni have gone on to be federal judges throughout the country, and served in local and U.S. politics, including the Senate. And any school that produced James Carville has "whip smart" written all over it.
LSU faced financial threats a couple years back because it's a public school in a state with financial travails. In 2015, the longtime autonomous law campus of LSU realigned itself as an academic unit of the university. What it sacrificed in independence, it likely gained in stability. That's important to hundreds of students and alums of this prestigious school that is one of the primary centers for instruction in civil law – that practiced in Louisiana, the only one of the 50 states to stick with the European legal construct. LSU excels teaching energy, trial advocacy, and, of course, civil law. The school offers programs with several European counterparts and is the only U.S. law school offering a simultaneous J.D. and Graduate Degree in Comparative Law.
The school is known as the Paul M. Hebert Law Center in recognition of 40 years of service, from 1937-1977, by Hebert as Dean of the school (with intermissions to serve as a Judge on the U.S. Military Tribunals in Nuremberg). A historical note from that era is the school's decision in 1946 to turn away an African-American applicant because integration thy name is not Louisiana. (You can read about Paul Hatfield on Day 22, Southern University School of Law.)
Minority students today comprise 14.7 percent of the law school's population, with 48 African-American students among the 534 students. Other relevant numbers for those considering enrolling in LSU are that it has the highest bar-passage rate in the state (82.3 percent); has very reasonable resident tuition ($22,520) and decent non-resident ($37,960) and that it admits 60.4 percent of applicants.
Tulane, in New Orleans, has a slightly higher employment rate, but LSU's measure of 86.1 percent is not bad. Students go to law firms (86); business (20); government (24); public interest (7) clerkships (20) and academia (4). For those joining firms, they join solos (4), small firms (61), medium (18) and big firms (7). Most graduates stay in Louisiana, but a handful practice in Texas, while a handful move to D.C. or practice in other states.
Bottom line: If you're choosing between LSU and Tulane, think about your pocketbook as well as where you're going to practice. It's a drive from Baton Rouge to New Orleans, and there are many connections to be had in both cities. Good students will do well either place.