Campus Snapshot: The University of San Diego School of Law is easily the premier law school in San Diego – and with good reason. Led by Dean Stephen Ferruolo, a former Biglaw partner, the school takes seriously its mission of educating future leaders of San Diego's legal and business communities, as well as its judiciary and government. It offers a first-class education in tax, energy and environment, and is hands-down the school of choice for San Diego's legal elite.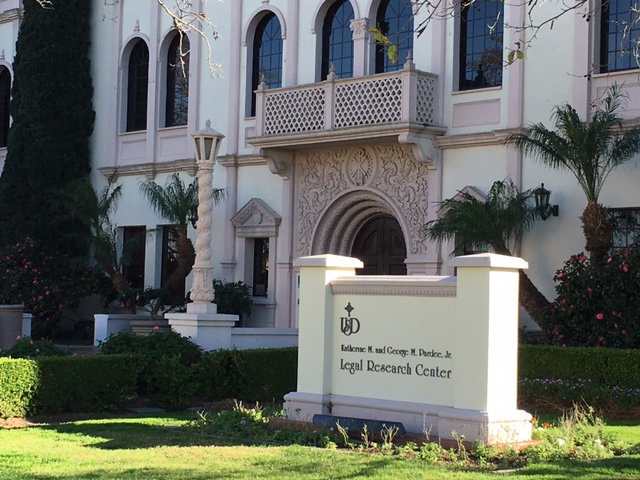 The University of San Diego School of Law could not offer a more stark contrast to its regional counterparts. Perched on a hill in Linda Vista, it is part of the beautiful USD campus, which is white-washed and Spanish Gothic with rolling green hills where students walk happily from class to class. The school itself is all dark wood and quiet walls with Spanish courtyards – much like what John Grisham would have concocted if he were in San Diego. It's a beautiful, reflective place to study the law.
Dean Stephen Ferruolo joined in 2011 as the school's 10th Dean. He brought a Biglaw background, having been a highly successful corporate lawyer in the San Diego office of Goodwin Procter, where he also served on the executive committee. (Note to other schools: while it doesn't always translate, the few schools that have had the bright idea to bring in someone who knows a thing or two about how law firms work to build the pipeline to those coveted jobs are on to something.) Ferruolo has assembled an impressive team in admissions, student affairs, academics and communication to ensure USD stays at the top of the market. (For more on the school, visit here.)
And about that market: it's a tough one. While San Diego has a population of 1.3 million, it's pretty much a mid- to down-market town. Sure, it has its own tech boom, which has spawned some Biglaw growth, but large firms generally don't maintain a big San Diego presence. High billing rates aren't sustainable, and much of the city revolves around the significant military presence. USD works hard to ensure its graduates get the region's most coveted jobs, and most USD grads work in small to mid-sized firms.
Its graduates easily comprise the power elite of San Diego law and business. Among the notable alumni are Steven Altman, former president of Qualcomm; Thomas Barrack Jr., CEO of Colony Capital; Theo Epstein, President of Baseball Operations for the Chicago Cubs; Thomas O'Brien, Paul Hastings partner and former U.S. Attorney for the Central District of California; Lynn Schenk, former member of the U.S. House of Representatives; Jan Goldsmith, City Attorney of San Diego; and the late Robert Kardashian, who defended O.J. Simpson and is the father of the Kardashians.