Campus Snapshot: The California Desert Trial Academy in Indio is an only-in-California law school type we'll call the In-N-Out. Drive to the outer fringe of Indio and you will find the Dolan Law Office. If you go around the back of the building, you will find the California Desert Trial Academy. (For bonus points, the Desert Center for Legal Education can be entered on a third side.) The school formerly held its classes at a nearby casino and attracts students from the growing Coachella Valley, where there is no other law school.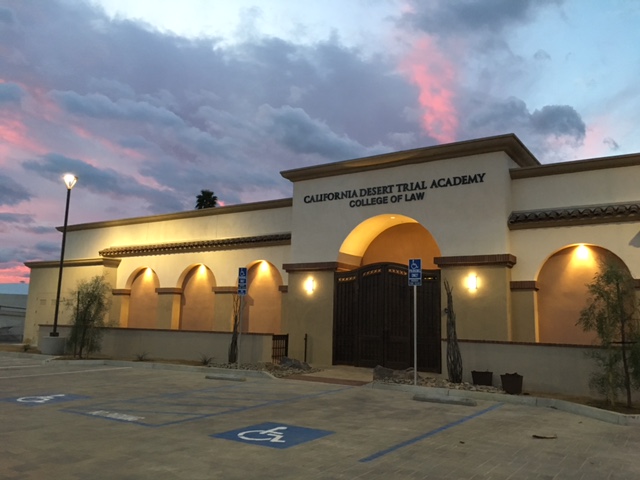 So let's say you're hanging out at Coachella and get busted. It's been known to happen. And you need a criminal defense lawyer who knows the ins and outs of the Desert Justice System. You just might hire John Patrick Dolan, who's lived and worked in the desert for decades. He runs the Dolan Law Firm in Indio.
Now depending on how things work out, you might decide to hang out in the Desert and maybe even go to law school. If so, you're in luck. Dolan is also the Dean of the California Desert Trial Academy College of Law. In fact, after four years of hosting classes at the nearby Fantasy Springs Resort Casino and addiction centers, it recently got real headquarters – in a converted furniture store it now shares with the Dean's Law Office!
On its face, this law school can appear shady – mostly because it's one of the 10 so-called Registered, Unaccredited Fixed-Facility Law Schools that the State of California allows to run as "law schools." The RUFFLS, by the way, are one of five types of law schools the state permits, which also include Registered Unaccredited Correspondence schools and Registered Unaccredited Distance Learning Schools. Our new friends RUCLS and RUDLS. Combined with the ABA accredited and State-accredited schools, that makes the California Desert Trial Academy one of a whopping 63 law schools in California, which just seems wrong.
On the other hand, Yale isn't exactly sending its grads to Indio. The school is four years old, has a reputable faculty including thoroughly professional local lawyers, a judge and prosecutors, including the well-regarded Dean of Students, Sue Steding. While there are a surplusssage of Dolans, they appear to be well regarded in the community and to run the law school in a professional manner. The school had 37 students earlier this year (it can now accommodate 140). It graduated its first class recently – 11 students, and all intend to sit for the bar. They are mostly working in the Coachella area.
One of them, Jennifer Madison, told a local reporter, "I'm a third generation here in the desert and to me, it's a phenomenal thing that we have upper education law school here in the valley for students."