Campus Snapshot: Thomas Jefferson School of Law in downtown San Diego would be stellar if it were an unaccredited correspondence law school in Barstow. Trouble is, it's an ABA-accredited institution in a gleaming $90 million eight-story tower in downtown San Diego with a stunningly horrible 30 percent employment rate (full-time, bar-passage required) for 2014 grads, and a three-year cost estimate of $257,909.  The school offered its students a real-life courtroom exemplar of how not to advocate when it went to trial against one of its students who accused it of fraud. A judge let the case go to a jury, and the school was found not liable. Need we note the school hired a Boalt Hall grad to defend it?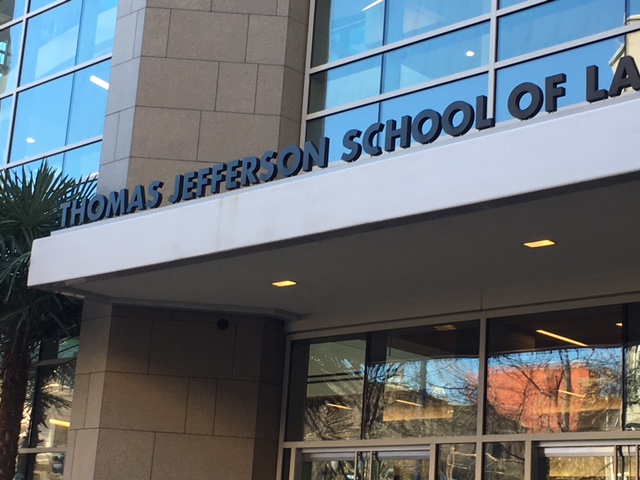 There's no joy in a really bad assessment of a law school. They're fun to write, but really add nothing to intelligence.
The world needs more lawyers, and more diversity in the legal profession. And Thomas Jefferson School of Law does its best to touch a number of those bases: its 650-member student body is among the nation's most diverse, with 55 percent women and 51 percent minority representation. But while it may load the bases on good intention, it strikes waaaaay out on jobs.
Points, too, for taking some interesting approaches to helping its woefully underemployed students by starting a Center for Solo Practitioners incubator to assist students in starting their own firms. That's actually a good step, as Biglaw is not fond of San Diego, with its welcoming beaches and fish tacos – and low billing rates. Law grads who want to practice here need to be prepared for government salaries or to make it on their own in personal injury, immigration or other consumer practices – where low-cost services are badly needed. The issue with Thomas Jefferson is they provide a legal education at an uptown price for a market that is way, way downtown. More than 90 percent of the school's 2013 grads took on debt, with an average debt load of $180,665.
A not insignificant problem is the glorious office tower it's on the hook for – a $90 million state-of-the-art building in an up-and-coming area of downtown San Diego. Funding for it was provided by the California Statewide Communities Development Authority, and a few years back, Thomas Jefferson was defaulting on its bond payments. We're looking into the current status of those arrangements (and why, for heaven's sake, the state of California decided to help fund a $90-million office tower for a really bad law school).
And then there's the case of Anna Alaburda. She was enticed to enroll at Thomas Jefferson, from which she graduated with honors in 2008. She filed suit against the school for grossly misleading employment statistics, and a judge allowed the case to go to a jury. It found, 9-3, that the school did not defraud Alaburda with its employment puffery, facilitated by U.S. News & Word Report. It weighed against her that she had turned down a job with a law firm, and that some of Thomas Jefferson's witnesses were credible. Kinda Coyote Ugly to go to trial against your own alum, no?