Campus Snapshot: The Sandra Day O'Connor College of Law, aka Arizona State University College of Law, is one of two great public law schools in this booming state. ASU tends to edge University of Arizona in rankings, but both offer strong employment, alumni and faculty. ASU's location in Tempe, adjacent to Phoenix, has been an advantage to the school, which is moving to a much bigger space downtown this summer. 
Tempe is an awesome college town, where students fly by on skateboards and bikes through a huge campus. There's almost nothing negative to be said about Tempe and ASU, other than it's hot. But this is Phoenix, people. So your skin is supposed to melt in the summer.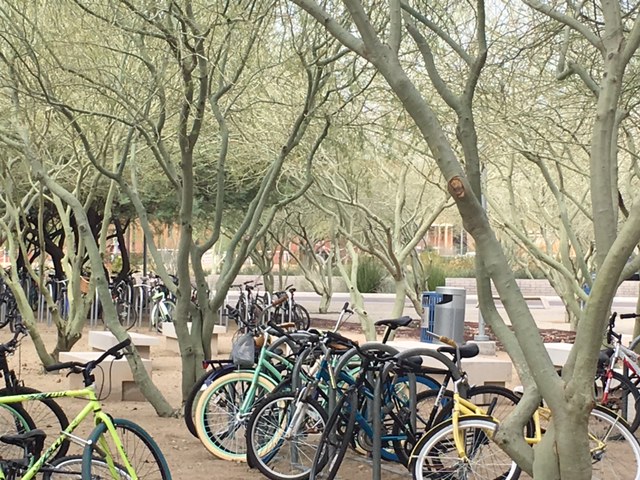 That's where the ASU College of Law has been based since opening its doors in 1967. Most recently, it has held classes in the cramped Armstrong Hall, with less than 150,000 square feet of space in what's best described as a really retro building. Its faculty and staff have been spread throughout the ASU campus. And while Tempe seems to have its own boomlet going on, there's no question the action in Phoenix is downtown. So that's where ASU is headed this summer, into a $129 million, 275,000-square foot tower at Second & Taylor known as the Arizona Center for Law & Society. Led by Dean Douglas Sylvester, the law school raised $47M in the past three years for the Center and scholarships. Top Phoenix lawyer Leo Beus of Beus Gilbert with his wife Annette gave the school $10M (though he is a University of Michigan Law School grad.)
The move should strengthen ASU's ability to attract all the students it wants who want to practice in Arizona, and make it much more convenient to look for employment at the numerous law firms and government agencies nearby. The school boasts a strong employment rate, with most of its 229 graduates going to work in Arizona in firms of 1-25 lawyers. It has established new programs in the Rule of Law & Governance; Sports Law & Business; and the Program on Law & Sustainability. It offers more than 300 externships and is noted for its strengths in patent, healthcare, innovation and Indian Law.
The school has a few other advantages, including the blessing of the U.S. first female Supreme Court justice to use her name. Sandra Day O'Connor is a big pull everywhere, and nowhere moreso than in her home state. While she attended Stanford, there's no denying the imprimatur her name lends the school.
It also benefits enormously from a star-studded list of alumni, which include former Arizona Supreme Court Chief Justice Rebecca White Berch; former Chief Justice Ruth McGregor; Senior 9th Circuit Judge Michael Daly Hawkins; former state Attorney General Grant Woods; and George McCaskey, chairman of the Chicago Bears. Several of Phoenix's largest firms count ASU grads among their leaders, including Charles Davis of Davis Miles and Tom Chauncey of Gust Rosenfeld.