Campus Snapshot: St. John's Law in Jamaica, Queens, is a surprisingly strong competitor in the fierce New York market. It offers the only Master's in Bankruptcy Law in the U.S., a noted part-time program and a heavyweight roster of alums, including former New York Governor Mario Cuomo, former CIA Director William J. Casey and former New York City Police Commissioner Raymond Kelly. It offers a modest size of 705 students, with a strong bar pass rate and job placement. The school's graduates mostly go to small or midsize law firms, but St. John's also boasts the third-highest placement in government among N.Y. schools.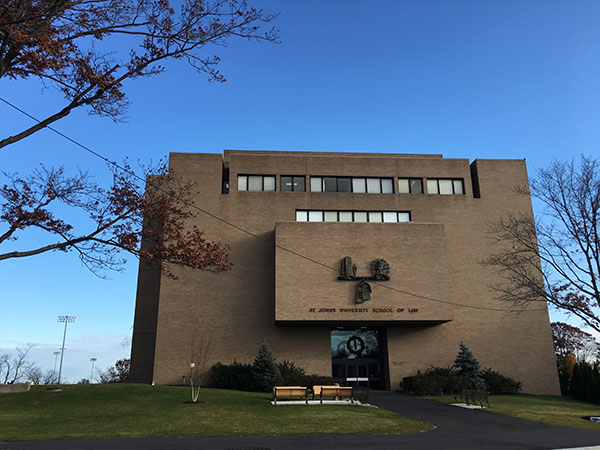 There's a tenacity to many New York City law schools, and when you combine that with St. John's Roman Catholic heritage, you get some seriously resilient lawyers. The 14 miles from NYU Law School to St. John's can feel like a million miles walking around the peaceful campus surrounded by suburban row houses. But be assured, you can easily make it to the city from here, as 15,000 big name politicos, judges and law firm partners have done since 1925.
The school's expertise in bankruptcy law cannot be overstated. In addition to offering a Master's – including a six-credit thesis – the school publishes the American Bankruptcy Institute Law Review and hosts the annual Conrad Duberstein Moot Court Competition, the only bankruptcy moot court in the nation, named for the St. John's alum and longtime Chief Judge of the Bankruptcy Court for the Eastern District of New York.
Among the school's other publications are the St. John's Law Review/St. Thomas More Institute for Legal Research; the Journal of Civil Rights & Economic Development; the New York International Law Review; New York Litigation; and the Journal of Catholic Legal Studies (formerly The Catholic Lawyer). The school offers 13 clinics, including Elder Law; Refugee and Immigration Rights; Domestic Violence Litigation Clinic; and Immigrant Tenant Advocacy Clinics. Through the International Human Rights Externship Program, Caroline Fish '18 interned for Hon. Raul Pangalangan, a judge on the International Criminal Court (ICC) in The Hague, Netherlands. Among the cases she assisted on was the trial of war crimes and crimes against humanity perpetrated by the Lord's Resistance Army in Uganda.
The school's alums have made their mark in politics, the judiciary and government. In addition to Cuomo, Casey and Kelly, they include Congressman Charles Rangel; Queens Borough President Melinda Katz; former California Governor George Deukmejian; former New York Governor Hugh Carey; former Simpson Thacher partner and now Bankruptcy Judge Mary Kay Vyskocil; hotelier Ian Schrager; Reid Collins & Tsai founder Bill Reid; and Janet DiFiore, Chief Judge of the Court of Appeals for the State of New York.
On the numbers, St. John's has a lot to offer, as well. The school accepts 42.5 percent of applicants, of whom 25.4 percent attend. Its midsize (for N.Y.) student body of 705 is 52 percent male and 27 percent minority (a few points above the nationwide average of 25 percent). The school has accepted large transfer classes, recently taking in 21 (the average is 5). Attrition is modest, with 4.7 percent of 1Ls and 1.4 percent of 2Ls leaving. One area for potential students to focus on is the tuition, of $55,150 full-time and $41,370 part-time. While the school does help 72 percent of students with scholarships – at a large median of $40,000 – that's still a hefty tuition to take on.
The school does well on both bar pass and placement. Almost all, 96.8 percent, of the school's grads take the New York bar and 81.2 percent of them pass. The school also boasts the fourth-best placement rate among N.Y. schools thanks to its smaller class, strong pipeline and proximity to the city. Last year, 227 of 248 students got jobs, for 91.5 percent employment. They went to work for: law firms (130); business (39); government (40); public interest (7); clerkships (8); and academia (3). Of those who joined law firms, they work for: small (63); medium (38) and large firms (29).