Campus Snapshot: Brooklyn Law School is, as you'd expect, about as edgy and urbane as they come, and a consummate "it is what you make of it" choice. It has graduated many successful business and government professionals, judges, prosecutors, criminal defenders and law firm leaders since it was founded in 1901. And since inception, its had the trademark Brooklyn underdog swagger. It uses that same market position today to launch students well-schooled in practical, clinical experience. Brooklyn is one of four NY schools topping a thousand students, and with tuition at $46,176 one of the most affordable choices in the state.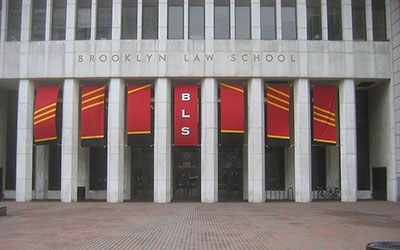 Brooklyn is synonymous with edgy and cool, so it's perhaps no surprise that the graduates of Brooklyn Law School often have an extra hustle that assists their rise to the top. While the school offers strong education and practical training at a reasonable price, it's really the underdog tenacity that defines it. From former New York Mayor David Dinkins to famed criminal defense lawyers Jerry Shargel of Winston and Bruce Cutler; top litigators Michael Elkin (vice-chair of Winston) and Marty Singer; dealmakers Eileen Nugent of Skadden and Frank Aquila of Sullivan; journalist Geraldo Rivera; former Weil chairman Stephen Dannhauser; and real estate developers Leon Charney and Larry Silverstein – not to mention one-time student Paul Simon – there's a certain consistency in the drive of those who go on to fame from Brooklyn.
Brooklyn is a huge law school, at 1,098 students the fourth-largest in the state. It's also the fourth-most affordable with resident tuition of $46,176. While that's mind-blowingly expensive in other parts of the country, it's quite reasonable for NY. Brooklyn also provides scholarships to 96 percent of its students, at a median level of $24,783. Part-time programs (as well as a two-year J.D.) are also available, and P-T tuition is $35,494. It places OK in big-firm jobs (sixth in the state, with 29 last year), but excels in government (#1 in NY at 55 jobs), and public interest (#3 at 30).
When it opened its doors as the first law school on Long Island, in 1901, it opened its arms to women, minorities and immigrants, laying the bedrock for the current school. It also allowed students with difficulty paying to remain enrolled. When World War II hit enrollment hard, notable alums purchased the school's assets to keep it going. That kind of commitment and tenacity remains today, as seen in the leadership of Stuart Subotnick, chairman of the board of Brooklyn Law School and CEO of Metromedia. The school is also noted for the stellar adjuncts who teach there, as well as its focuses in international business, securities, real estate, trial advocacy and sports law.
The school offers four student journals, which provide opportunities for more than 290 2L and 3L students to write. It fields 30 teams in national and international moot court competitions, and offers five centers for in-depth scholarship and training, including the Center for Urban Business Entrepreneurship; the Dennis J. Block Center for the Study of International Business Law; and the Center for Law Language & Cognition.
Public service is a noted strength with clinics offering representation opportunities in everything from securities arbitration to immigration, and entrepreneurship to real estate. Since 2014, students have been required to complete at least one clinic or externship to graduate. The clients they can assist include those of Advocating for Adults with Intellectual & Developmental Disabilities; the Brooklyn Law Incubator & Policy Clinic; the Capital Defender & Federal Habeas Clinic, assisting death row inmates; and the Community Development Clinic.
On the numbers, Brooklyn is pretty much right down the middle in the extremely tough New York market. It accepts 49.3 percent of applicants and a low 19.4 percent of those attend. The student body is 51 percent female and 29 percent minority. A modest 12 students transferred in last year, and 9.1 percent of 1Ls and 2.3 percent of 2Ls departed. Almost all of the school's grads – 92.1 percent – take the New York bar, and 80.6 percent of them pass (the state average is 78.1 percent).
Of the 336 graduates, 300 got jobs, for a placement rate of 89.3 percent, the 6th-highest of New York's 15 law schools. Graduates went to work for: law firms (148); business (46); government (55); public interest (30); clerkships (17); and academia (2). The firms they joined are: small (65); medium (29); and large (52). While 271 practice in New York, 10 moved to New Jersey and three to California.
If you're considering attending Brooklyn Law School, the hard questions are how it stacks up against your other choices, especially Manhattan-based schools. Some of today's biggest legal stars graduated from Brooklyn, which undoubtedly gave them the tools to enhance their competitive drive. That tenacity is a bright spot, as is public interest, government and business pipelines and its cost-effectiveness. There are no real hard questions with Brooklyn, only the ever-present competition of that dazzling Borough across the river.