Campus Snapshot: New York Law School makes the most of its downtown location, which opens doors to government and financial industry positions and traditional law firm jobs. To endure the test of time, the school is highly focused on its role in this competitive market, calling itself "New York's Law School," with good reason. Led by Dean Anthony Crowell, a veteran of the Bloomberg administration, New York Law School has sharpened its focus on practical training and opportunity that will provide students connections and employment. It's a public interest haven, with noted efforts in immigration and juvenile law, and offers an accelerated two-year JD and part-time programs to facilitate legal education for working professionals. Though it's one of NYC's smaller schools with a total enrollment of 863, it placed the fourth-highest number of grads in jobs in the state, 312, last year. That's a good metric, as is the compelling 96 grads who got jobs in business. NYLS has produced a U.S. Supreme Court justice and legions of politicos, business professionals and lawyers who learned tenacity and real-life lawyering in the heart of the city.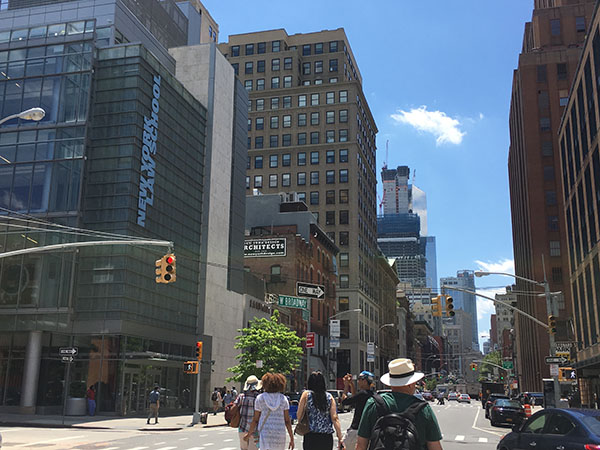 Few law schools are as storied as Tribeca's New York Law School. It was founded in 1891 by a group of professors from Columbia Law School who resigned when the uptown institution decided to align itself with the case-study method of legal education. They believed in more practical training, so they moved downtown and opened their own law school. For a while, it was the biggest in the U.S. Through wars and depressions, this dedicated school has had its ups and downs, but has always hung tight to its mission of being New York's law school.
While you shouldn't choose your law school for its history, NYLS' tenacity is a real selling card. Legendary figures have come through its doors, including U.S. Supreme Court Justice John Marshall Harlan II; Maurice "Hank" Greenberg, longtime leader of AIG and now head of C.V. Starr; Joseph Plumeri, former head of Willis Group (who didn't complete his degree after stumbling into a brokerage rather than a law firm while searching for a job); Robert F. Wagner, U.S. Senator and working-class hero who was an architect of the New Deal and the National Labor Relations Act; Charles Phillips Jr., former President of Oracle and CEO of Infor; Judge Judy Sheindlin; Pulitzer-winning poet Wallace Stevens; Zygi Wilf, owner of the Minnesota Vikings; Marc Lasry, founder of Avenue Capital Group; Richard LaMotta, who invented the Chipwich; and Academy Award-winning producer Arnold Kopelson.
The school competes in the tough New York market, where it downsized a few years back to drop below the 1000+ student enrollment bracket. The school is now a nicely sized 863 student school, and is also one of just two in the city to offer tuition under $50K – NYLS tuition is $49,240 (and $37,880 part-time; the only other NYC school under 50k is Brooklyn Law School). A mighty metric for NYLS is its endowment, which is one of the Top 10 in the U.S.
New York Law School's public-interest program is a huge draw, as is its commitment to students like Libby Tatum, a 1L who was promoted when she told her supervisor she would be attending law school, and worked with NYLS to join the evening program. The school's public interest programs are part of the Impact Center for Public Interest Law and the Joe Plumeri Center for Social Justice and Economic Opportunity, which houses more than 20 legal clinics. For example, the school's Immigration Law program offers top training and real-life experience. Led by Professor Lenni Benson and Adjunct Claire Thomas, they are currently litigating as amicus with 23 other immigration clinics in the case of Jenny Flores, a California teenager representing teenage immigrants held in custody without counsel. They oppose the Trump Administration's denial of bond hearings and denial of representation for the kids.
On the numbers, there's a lot to recommend NYLS: It places far more graduates in business positions than any other New York school, coming in #1 with 96 students. It's also very strong in government, coming in #2 statewide with 45 students in such jobs. It's # 3 in clerkships, with 20 students going to the judiciary or similar posts. It also places a strong 16 students in public interest posts. The school accepts 55.6 percent of applicants, 21.2 percent of whom attend. Its NY-reasonable tuition of $49,240 is offset for 66 percent of students who receive scholarships at a median amount of $20,000.
The school is very diverse, with women holding 57 percent of student slots; its student diversity percentage is an excellent 34 percent, including 16.6 percent Hispanic students, for which the school has received recognition. The tough questions to ask if you are considering enrolling focus on the recent low bar-pass mark of 59 percent. The school traditionally posts bar pass rates in the 80 percent range, roughly the average for New York state. The stumble of the past two years is receiving enormous attention from the school, which is among many working hard to deliver top practical-skills training, which is not necessarily compatible with the bar-examination focus. The other issue is the school's higher-than-average attrition rate, with 13.4 percent of 1Ls and 4.4 percent of 2Ls departing.
The school's job placement is strong, with 88.6 percent of students getting jobs. They go to work for: law firms (131); business (96); government (45); public interest (16); clerkships (20); and academia (4). Those joining firms work for: solo (1); small (90); medium (12); and large (27) firms. Graduates primarily work in New York (250) and New Jersey (40). Other notable curriculum and focuses include tax law, real estate, intellectual property and technology and environmental law. NYLS is well recognized as a leader in practical training.
Under Dean Crowell, the school has focused tirelessly on innovation in legal education, and on providing a student-centric experience that tries to ensure every student has a real chance to become a lawyer. That's the dedication that's made New York Law School stand out for 125 years, and a skill every aspiring lawyer needs.