Campus Snapshot: If you're going to be the #3 law school in a city, let it be New York City. We'll leave outright rankings to others, but let's just say that Fordham Law School has been well known as a strong school among the legal industry for a very long time. Its alumni are a who's who of the get-it-done notables of the state's judiciary and politicians. Fordham places very well in major firms, as well as in business. And that placement record – placing the third-highest number of graduates in jobs, including 121 in big firms – is an important one, as the school is also expensive. It's the third biggest in the state, with 1,163 students, and charges the fourth-highest tuition, at $56,146 (even its part-time of $42,196 is above the national full-time average). Among its numerous standout programs, the Public Interest Resource Center hosts 19 student-run organizations, including Habitat for Humanity at Fordham Law School and the Unemployment Action Center, through which students donate thousands of hours to learn the law first-hand.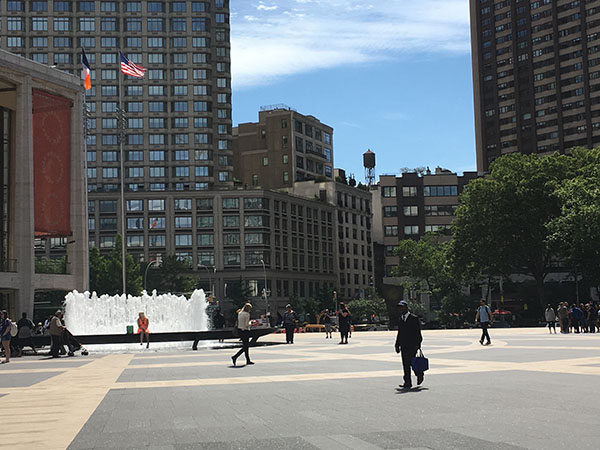 New York City is the best legal market in the U.S., probably the world. So educating the thousands of new lawyers who start jobs here every year is a big task. The state has 15 law schools, eight of them in the boroughs of New York City. You want to talk competition? It doesn't get tougher than this (and that doesn't even begin to address the proximity of schools in New Jersey, Pennsylvania, Connecticut, Boston and D.C., all of which readily feed the NY market). Since it was founded in 1905 as a Catholic Jesuit law school, Fordham has secured the enviable position of the best state feeder of talent to NY law firms other than NYU and Columbia. Here's the metric that makes Fordham a serious contender: Total job placements last year? NYU (474); Columbia (403); Fordham (357). Total big-firm placements? NYU (289); Columbia (297); Fordham (121).
Fordham has succeeded in building its New York pipeline with an aggressive swagger and a "we try harder" approach. For years, one of the top schools represented among the elite Skadden partnership has been Fordham (and the firm today has 16 partners who graduated there). The school graduated Skadden name partner William Meagher in 1927, and cultivated that relationship ever since. Its big-firm connections give it an edge over the three other great "local" schools (Brooklyn, New York Law School and Yeshiva-Cardozo) vying for students aiming for big firm practice in this market. Fordham has 49 partners among our sample of elite law firms: Skadden (16); Latham (8); Cravath (5); Boies Schiller (2); Simpson Thacher (6); Sullivan & Cromwell (2); Davis Polk (3); Debevoise (2); Paul Weiss (3); and Wachtell (2). Its peer NY schools have 37 combined, though those schools have many strengths.
Like Fordham's motto, "In the service of others," the school is much more than big firms. It offers a breadth of special focuses, from corporate compliance and fashion law to international dispute resolution and international law and justice. It also works with Fordham University to provide a 3-3 program, through which students can get their bachelor's and J.D. in six years. Its part-time program is highly regarded, as are its dispute resolution, trial advocacy, international, intellectual property and clinical education. While clinical education is not required, Fordham is a powerhouse, offering 16 clinics, ranging from appellate litigation to community economic development, family advocacy to Queen's DA prosecution and even Presidential Succession. The Public Interest Resource Center is award-winning and students donate massive amounts of time; the 2016 class donated more than 120,000 hours of legal services.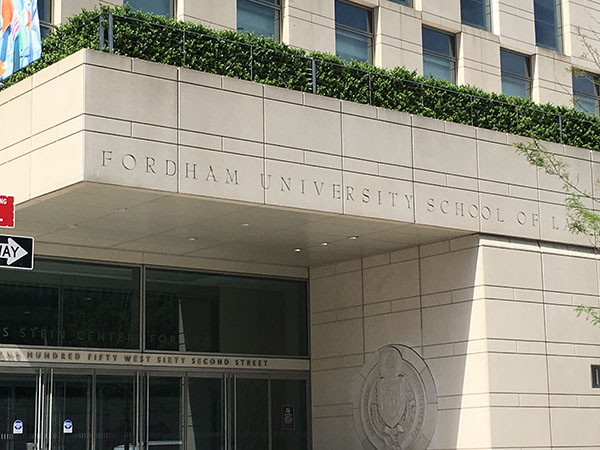 Its location is ideal, perched just North of Midtown's law firms on the edge of Lincoln Center. It's now housed in a massive 22-story building in which the law school inhabits the lower nine floors, and the top 12 are an undergraduate residence hall. From the law school, students produce six student-run publications.
On the numbers the school is impressive. It accepts 37.4 percent of applicants, and 23 percent of those attend. The annual tuition of $56,146 (and $42,196) is among the highest in the U.S., and 69 percent of students get scholarships that help. The median size of those scholarships is $15,000. With 1,163 students, it's one of the largest U.S. law schools, with 51 percent female students and 28 percent minority. In the most recent class year, 7.4 percent of the 1Ls left as did 0.9 percent of the 2Ls. The school's bar pass rate of 84 percent is above the NY average of 78.1 percent, but still could use some improvement given the caliber of the school.
Its strong employment mark of 87.1 percent reflects 357 of 410 recent graduates gaining employment. They went to work for: law firms (216); business (69); government (28); public interest (15); clerkships (20); and a very high number (9) to academia. The firms they joined are: small (50); medium (45); and large (121). Fordham grads mostly stay in NY (296), though 21 crossed the Hudson River to New Jersey, 11 moved to California and 17 went to other states and countries.
Its legions of notable alumni include a wide range of judges from New York to Oklahoma to California, including former Bankruptcy Judge Arthur Gonzalez; retired California federal judge Marilyn Hall Patel; Loretta Preska, the Chief Judge of the U.S. District Court for the Southern District of New York; and Denny Chin of the 2nd Circuit U.S. Court of Appeals. Politicians have included Geraldine Ferraro, the first female vice-presidential candidate; U.S. Congressman for NY Jerrold Nadler; former NY Secretary of State and civil rights lawyer Cesar Perales; Manatt partner and former California Treasurer Kathleen Brown; and the late Louis Lefkowitz, who served as New York Attorney General for 22 years. Among the other notable graduates are star plaintiff lawyer Thomas Moore of Kramer Dillof;  journalist Christopher Cuomo; John Mara, president and COO of the New York Giants; Howie Roseman, general manager of the Philadelphia Eagles; and the late Walter O'Malley, who moved the Brooklyn Dodgers to Los Angeles.