Campus Snapshot: If there's an epicenter of legal education in the U.S., it's New York City, and likely near Washington Square Park. Walk across the street to New York University School of Law, and gaze at the institution that has launched centuries of the most fabled names in New York politics and law. You want politics? Try LaGuardia, Koch, Giuliani and Raymond Kelly. Big law power brokers? How about the Chairman of Cravath, Evan Chesler, and all four name partners of Wachtell Lipton Rosen & Katz? The school's Greenwich Village-adjacent location defines a New York state of mind, as does its price tag as the 2nd-most expensive law school in the U.S., with tuition at $61,622. That's not quite so terrifying given that NYU's job placement is tops in NYC, at a mark of 97.7 percent, with most grads going to the nation's most elite private firms. NYU excels in international, tax, corporate law, and public interest, for which it's an undisputed leader in the U.S. But what it really does best? Serve as the legal crossroads of New York City.
The magic of New York is captured perfectly at New York University School of Law, which enrolls students in equal parts idealist and capitalist and produces power brokers of whatever realm they choose. With 1,369 students NYU is one of six U.S. law schools topping 1,000 students – four of them in New York. So if you're ready for the reality of "If you can make it here, you can make it anywhere," welcome home.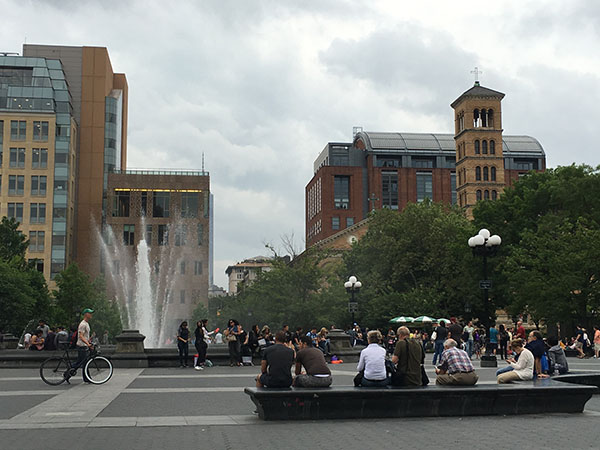 NYU trains its students well to compete hard and to win – whether they are building two of the world's most prestigious firms, in Cravath and Wachtell; mayors; judges; CEO's like Southwest Airlines founder Herb Kelleher; Nobel Peace Prize laureates Elihu Root and Mohamed ElBaradei; the inspiring journalist Glenn Greenwald; movie producer Peter Guber; the former FBI Director Louis Freeh; NHL commissioner Gary Bettman; or the late, trailblazing New York judge and Skadden partner Judith Kaye. And we would be remiss not to mention the scion of an old dynasty, the late John F. Kennedy Jr., and the President's current main man, Jared Kushner.
NYU is the city's oldest law school, established in 1835. It balances first-rate scholarship with a broad world interest. The school's 10 student-run journals reflect that range, including the Journal of Law & Liberty; International Law & Politics; Environmental Law; and Law & Social Change. Its role as an international legal crossroads shows in dual degrees it offers with Osgoode Hall Law School in Toronto; the National University of Singapore Faculty; and the University of Melbourne Law School. It offers joint programs with Oxford, the Harvard JFK School of Government and Princeton's Woodrow Wilson School of public affairs. It also offers a vast array of Institutes and Centers, bringing specific focus to issues from policing to immigration. In addition to the famous Brennan Center for Justice, there is the Center for Cybersecurity; for Diversity, Inclusion & Belonging; for Financial Institutions; for Human Rights & Global Justice; the Migration Policy Institute; the Policing Project; and the Institute for Corporate Governance and Finance. And that is just a sampling.
On the numbers, the school admits 29.8 percent, and 23.2 percent of those admitted enroll. Its bar pass metric is a strong 96.2 percent (84.5 percent of NYU grads take the NY bar, whose average pass rate is 78.1 percent). Of the 1,369 students, 51 percent are female and 30 percent are minority. The school's student to faculty ratio is 9:1. Last year, 43 students transferred in – a large number compared with the national average of 5. And 3.1 percent of 1Ls and 0.4 percent of 2Ls left. While the school's tuition is very high, it provides scholarships with a median of $20,000 to 41 percent of the students. That's on the low side. However, 114 students get full tuition. Those include the Root-Tilden-Kern Scholarships Program, which awards full-time tuition to 20 students committed to public service each year.
NYU Law School has an exceptional job placement rate of 97.7 percent, placing 474 of 485 students in the most recent class. They joined: law firms (324); business (18); government (30); public interest (64); clerkships (37); and academia (1). Of those who went to work for firms, they joined small (9); medium (26) and large (289) firms. While most (344) stayed in NY, they also practice in California (35); Washington, D.C. (35) and other states and countries.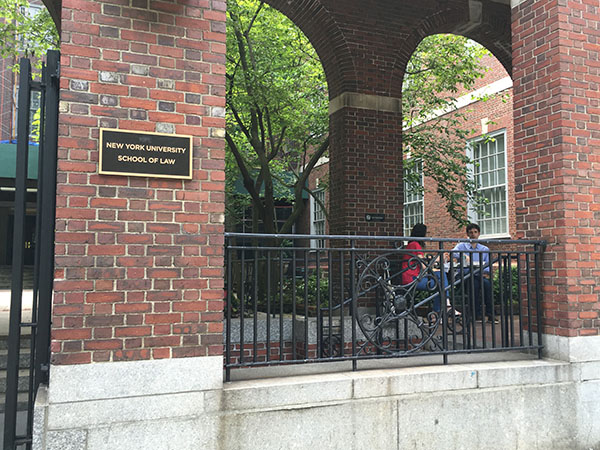 Taking a look at how many NYU alums are partners in the city's ultra-elite law practices, it's a wildly impressive pack. While Columbia has a slight edge over NYU (216 to 197) in the 10 firms we sampled, you can't go wrong either way. NYU's big firm breakdown is: Latham (44); Skadden (37); Paul Weiss (25); Simpson Thacher (20); Davis Polk (19); Sullivan & Cromwell (15); Cravath (12); Wachtell (11); Boies Schiller (10); and Debevoise (4). They include Cravath's Chesler and corporate governance guru John White; Boies Schiller's David Boies, who earned his LL.M. at NYU; Paul Schnell and John Carroll of Skadden; Herbert Wachtell, Martin Lipton David Katz and the late Leonard Rosen of Wachtell; John Mead of Sullivan; Jennifer Hobbs and Lee Meyerson of Simpson Thacher; Arthur Golden of Davis Polk; and Greg Ezring of Paul Weiss.
Equally impressive is the school's impact through its Root-Tilden-Kern Scholars, whose first class graduated in 1954. A sampling of its alumni include: Thomas Buergenthal, former judge of the International Court of Justice; Christopher Meade, former General Counsel to the U.S. Department of the Treasury and now Chief Legal Officer of BlackRock; Julie Brill, former FTC commissioner and now a partner at Hogan Lovells; Derwyn Burton, Chief Public Defender of Orleans Parish; Colorado Congresswoman Diana DeGette; Mary Haviland, executive director of the NYC Alliance Against Sexual Assault; Sharon Hom, executive director of Human Rights in China; Dorchen Leidholdt, the director of the Center for Battered Women's Legal Services at the Sanctuary for Families; and Lourdes Rosado, chief of the civil rights bureau at the New York Attorney General's Office.