Campus Snapshot: Loyola University Chicago School of Law has a lot going for it. Named in honor of legendary Chicago trial lawyer Philip H. Corboy, it packs a heavyweight alumni punch with judges and politicians including Attorney General Lisa Madigan and her dad, longtime speaker of the Illinois House of Representatives Mike Madigan, as well as elite trial lawyers including Joseph Power of Power Rogers & Smith. Dan Webb, co-executive chairman of Winston & Strawn and widely considered one of the nation's foremost trial lawyers, got his degree here attending part-time at night. In addition to outstanding networking opportunities, the school offers emphasis in health law; child and family law; tax; and trial advocacy. Not to be missed is its Weekend JD program, commenced in 2016, that allows working professionals to get their JD on the weekend in four years.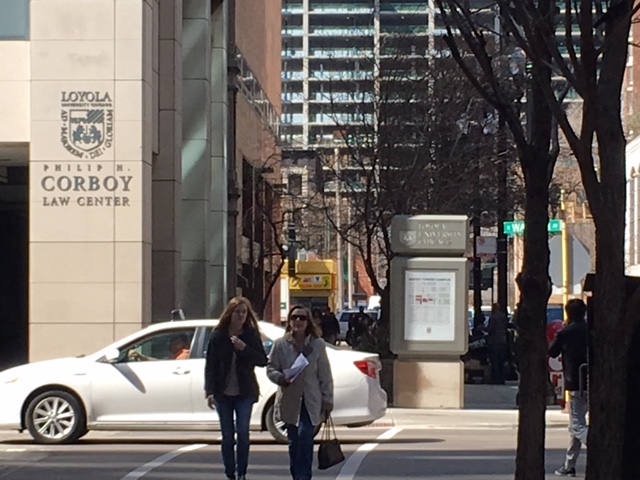 Loyola University Law School Chicago is one of the best choices in the region. It uses its Jesuit history, downtown location and power-packed alumni to great advantage, pairing those with innovative approaches in education and a longstanding commitment to part-time and other options that support working students and diversity. It's located in the River North area not far from fabled Michigan Avenue in the Corboy Center. Corboy is a vital name in Chicago legal circles; Philip H. Corboy graduated from Loyola in 1949 and went on to become one of the greatest trial lawyers of his generation, transforming personal injury law before his death in 2012. In addition to the law school building, he and his wife sponsor 10 students a year as Corboy Fellows, who represent the school in mock trial programs nationwide. Corboy's firm, Corboy & Demetrio, is managed by another alum, Robert Bingle, who earned his law degree at Loyola at night. The school also offers the Dan K. Webb Center for Advocacy, providing a one-two punch that's tough to beat.
In Chicago's very competitive law school market, Loyola Chicago charges roughly the same as its peer schools, $47,416. And it places 85.8 percent of its grads in jobs, including 27 big firm slots. The school's impressive network is one reason that only four Illinois law schools place more students in jobs than Loyola, which filled 224 slots last year (those topping Loyola have larger classes typically: John Marshall, Kent and Northwestern). The school has 676 students and its 85.8 percent employment rate places it just behind rival IIT Chicago Kent. Its longtime Dean, David Yellen, joined Marist College as President in 2016 and the new Dean, Michael J. Kaufman, is a longtime Loyola professor and leader who authored the Weekend JD Program.
That program is exemplary of Loyola, whose trial advocacy training and part-time options brought the likes of Dan Webb and Joe Power to the bar – low-key titans who are second to none in a courtroom. The Weekend Program allows students to earn their JD in four years for roughly $34,178. Among the 43 students in the first class is Shemario Winfrey, who leaves Houston each Friday evening after working as director of rail projects for Phillips 66 during the week, flies to Chicago, takes two days of classes, and returns home Sunday evening.
There are not many downsides to Loyola, like its rival IIT Chicago Kent. If you intend to practice in Chicago, you are likely comparing downstate U of I, Loyola and IIT Chicago-Kent. One weak spot is Loyola's bar pass rate, which is something any individual student can overcome in bar prep. But bottom line, Loyola is a great school for a focused student who knows why they want to practice law and are willing to apply themselves to join its legion of champions.