Campus Snapshot: If you're going to the Big (Law) D, as in Dallas, strongly consider attending SMU Law School if you can win admittance. It's a very good law school – probably second best all around in Texas – and has an incredible group of alumni within the upper ranks of Dallas law firms.
Southern Methodist University – Dedman School of Law is North of Downtown Dallas in a quiet, historic building. Though founded by what is now The United Methodist Church, it's non-sectarian and a big law school, with about 740 students (down from 900 a few years back). The school graduates about 240 students a year on a traditional three-year calendar basis, almost all of whom get law firm, business or government jobs.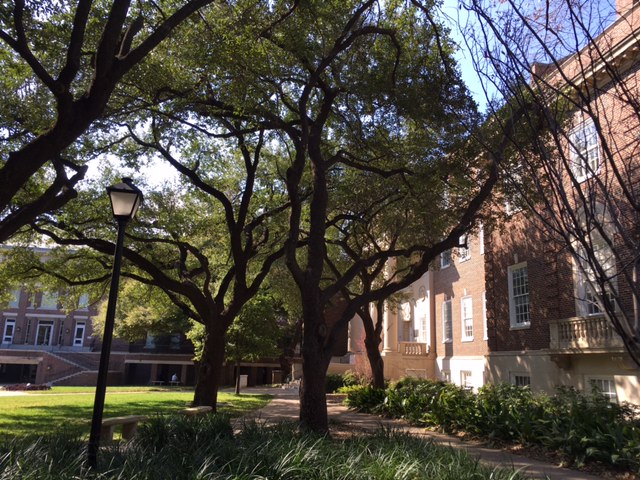 That word – tradition – is probably a key one if you're considering attending SMU. The school is very Dallas – straightforward, hard working, excellent in many respects. But you're not going to get a lot of newfangled critical race legal theory or feminist scholarship. Most of Dallas' top law firms and corporations have an SMU grad in leadership, including Tim Powers of Haynes Boone; Mark Sloan and Emily Parker of Thompson & Knight; Vicki Gunning of Locke Lord. Other grads include Angela Braly, former president of WellPoint; noted trial lawyer Rusty Hardin; former White House Counsel Harriet Miers; Florida Governor Rick Scott; and Jerry Jones Jr., chief marketing officer for the Dallas Cowboys.
Focus seriously on where you want to practice if you're contemplating enrollment as a Mustang. The large majority of SMU's graduates practice in Texas, and you will make connections to future judges, colleagues and general counsel if you attend SMU; what you won't get is an easy passport to other jurisdictions. It's difficult to avoid a head-to-head comparison with UT Law School, which has bigger class size (354 to 239) and places more students overall in big law jobs. For the most recent year, UT placed 111 students in big firms, compared with 42 for SMU, and 30 in midsize firms, compared with 25 for SMU. Two important notes: This is not a bad competition to be second in. Secondly, the Dallas market has lit up this year, and growth in the Dallas legal market portends only good things for SMU.
SMU is expensive, with a tab of $51,096 for residents and non-residents alike, but 84 percent of students receive scholarships (on average, $23K). Also consider that the school has a high student to faculty ratio, 20:1, meaning less individualized attention. The student body is roughly balanced gender-wise, but has a lower than average diverse student body (and faculty) when it comes to ethnicity.